At Tees for Bees, we love hearing about young entrepreneurs making it while making a difference.
Founder of Me & The Bees Lemonade, Mikaila Ulmer has a truly inspirational story. And it all started with a bee sting at age four!
"When I was just four, I got stung by a bee and then got stung again less than a week later! Naturally, I didn't enjoy the bee stings at all and I became scared of bees. But then after doing some research about them, I became fascinated and learned all about what they do for me and our ecosystem."
Soon after being stung, Mikaila started a lemonade stand outside her home in Austin, Texas, and donated a percentage of profits to bee-charities.
A decade later, at age 15, Mikaila's business is ten years old and creating a serious buzz in the drinks industry. She's written a book, started a bee charity and appeared on Shark Tank. Remarkable achievements for someone as young as Mikaila!
Me & The Bees
Mikaila's business, Me & The Bees, produces ready-to-drink lemonade in five flavors. Classic, Mint, Iced Tea, Prickly Pear, and Ginger. The company also makes organic beeswax balms.
You can buy Mikaila's products on her website or at selected grocery stores, including The Fresh Market, H-E-B, and Whole Foods Market, to name a few. You can find out where to buy on Me & The Bees website here.
Healthy Hive Foundation
Mikaila started a charity, Healthy Hive Foundation. The organization "advocates for bees by bringing attention and awareness that bees are critical to the environment, the ecosystem and economy, and on the verge of extinction."
Healthy Hive Foundation supports several initiatives, including the Lady Bird Johnson Wildflower Center, Austin's Sustainable Food Center, Central Texas Tour de Hives, and more.
Learn more about the Healthy Hive Foundation on their website.
Bee Fearless: Dream Like a Kid
On August 18, 2020, Mikaila released her book, Bee Fearless: Dream Like a Kid. This part memoir, part business guide, aims to inspire young readers to pursue their dreams.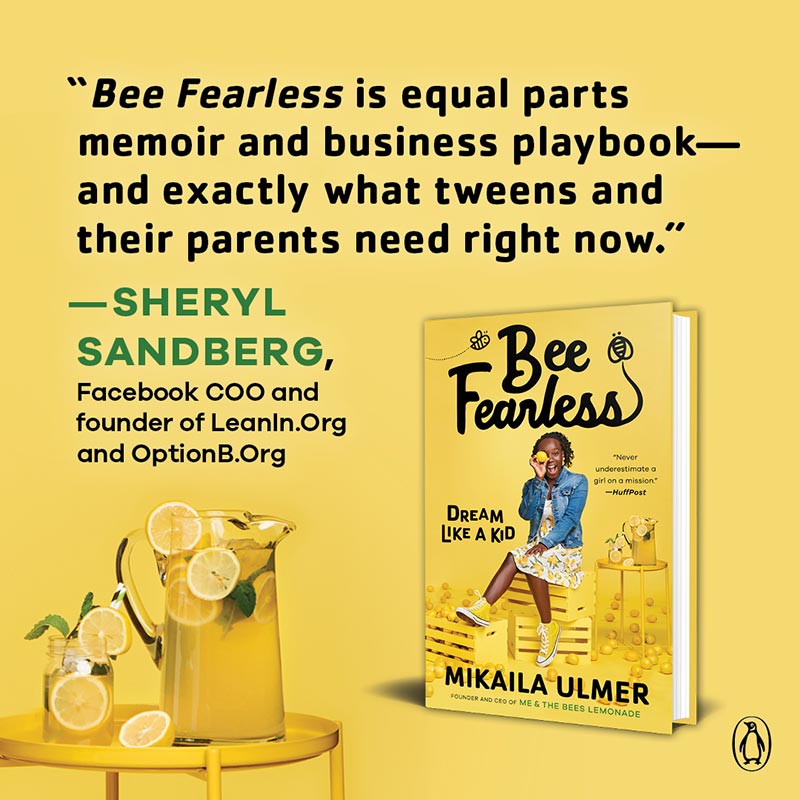 "There's no limit to becoming a change maker, if you want to make a difference, you don't have to wait until you're older to do that."
Mikaila's book, Bee Fearless: Dream Like a Kid, is available in hardback and can be purchased on Amazon.
Follow Mikaila
You can follow Mikaila on her official social media channels:
Website & Store: meandthebees.com
Instagram: @mikailasbees
Facebook: @MikailasBees
Twitter: @mikailasbees
Pinterest: @MikailasBees
YouTube: Me & The Bees